Sicily
A land of contrasts with Greek temples, coastlines and landscapes competing for attention and occasionally taking a supportive role when Mount Etna wishes to be seen and heard.
Sicily is Italy's and Europe's most historically cosmopolitan region having been ruled by Asians, Africans and Europeans. There is no other place on earth like Sicily, the island is a unique place full of art, archaeology, history, folklore and breathtaking scenery.
It is the largest Mediterranean island and with its geographical position halfway between Europe and Africa, the result is a rather unique blend of cultures with food noticeably different to the rest of Italy; spicier and with more emphasis on fruit, vegetables and fish. Greek temples and Roman amphitheatres reflect days gone by of numerous invasions which have helped to create the culturally rich island of Sicily.
Flight time from London to Catania in the North East of Sicily is just over 3 hours.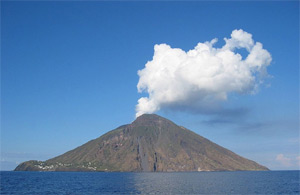 Stromboli
Located off the north coast of Sicily and containing one of the three active volcanoes in Italy. It is one of the eight Aeolian Islands, a volcanic arc north of Sicily. The volcano has erupted many times and is constantly active with minor eruptions, often visible from many points on the island and from the surrounding sea, giving rise to the island's nickname "Lighthouse of the Mediterranean".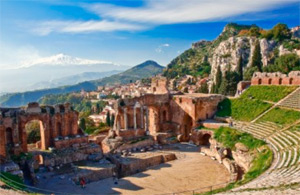 Greek Temples at Taormina
The Teatro Greco in Taormina has provided the dramatic backdrop for theatrical performances since the third century BC.